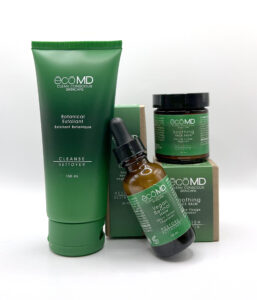 When the brightest stars of the music industry converge on Los Angeles for the 65th GRAMMY Awards® on Sun, Feb. 5, they'll be presented with a variety of ēcōMD's clean, cosmeceutical skin care products that will be included in an exclusive collection of celebrity swag. 
All presenters and performers at the awards show receive luxurious thank-you gifts in appreciation of their participation. This year, performers like Bad Bunny, Luke Combs, Sam Smith and Lizzo will find a customized package of ēcōMD products among their glamorous gifts. 
ēcōMD founders Dr. Namita Rao and Dr. Jaggi Rao are delighted to have their ground-breaking skincare line given such high-profile exposure and hope it will raise awareness of how their products offer a non-toxic alternative. "So many popular skincare and cosmeceutical products have a negative effect both on humans and the environment," says Dr. Namita Rao. "Our goal was to provide a truly effective alternative that's clean and toxin-free." Their website (ecoMDskincare.com) even features an eye-opening list of "no-no" ingredients they never use, as they may have harmful effects on humans and the environment. 
ēcōMD is a family of gentle yet highly effective scientific formulations using naturally and ethically sourced ingredients where possible to provide preventative and effective treatment for skin aging and photoaging, mild acne, rosacea, and sensitive, dry or menopausal skin. 
The ēcōMD line of scientific formulas is particularly characterized by its exceptionally high concentrations of active ingredients used to successfully address virtually all aspects of skin health – cleansing, hydration, restoration, nourishment, and protection. 
Their commitment to a product that is natural and sustainable extends to the packaging itself, emphasizing glass over plastic bottles, no inserts, recyclable kraft boxes and vegetable-based inks.
Says Dr. Jaggi Rao, "Our inclusion in the GRAMMY Gift Bag is a tremendous opportunity to increase awareness of the ēcōMD line and its benefits." 
Distinctive Assets, the LA-based entertainment marketing company responsible for the gift bags, selected products and services for inclusion based on more than just luxury and quality. Says founder Lash Fary: "We are proud to continue a tradition of making our gift endeavor as inclusive as possible, representing companies owned and operated by individuals across race, ethnicity, sexual orientation, gender, and age. These entrepreneurs not only make best-in-class products but also give back to their communities and the world at large." 
The included package comprises three products: Botanical Exfoliant, Vegan Retinol Serum, and Soothing Face Balm. They're all part of a four-day Skin Cycling Routine, with instructions and info included. 
With the glare of media attention always upon them, the GRAMMY® Performers and Presenters are experts at putting their best face forward. Hopes are that these bright- shining musical stars will appreciate what "clean, conscious" ēcōMD products have to offer, and that consumers seeking non-toxic alternatives to the dominant skincare brands will follow suit.