Breaking new ground in the field of professional skincare, ēcōMD is a family of gentle yet highly effective scientific formulations using naturally and ethically sourced ingredients where possible to provide preventative and effective treatment for skin aging and photoaging, mild acne, rosacea, and sensitive, dry or menopausal skin.
Created by dermatologist, cosmetic surgeon and clinical professor Dr. Jaggi Rao MD, FRCPC (Dermatology) and his partner Dr. Namita Rao MD, the ēcōMD brand stems from their lifetime commitment to improve skin health and wellness in a safe, non-toxic and environmentally respectful way. 
The ēcōMD line is particularly characterized by its exceptionally high concentrations of active ingredients used to successfully address virtually all aspects of skin health – cleansing, hydration, restoration, nourishment and protection.
Formerly available exclusively to dermatologists, medispas and skincare professionals, the entire family of ēcōMD products is now available for direct purchase in our online store.
Clean. Safe. Effective.
From nicotine to thalidomide and asbestos, our society has far too often been ravaged by well-meaning but ultimately extremely damaging substances.
Even today, far too many personal care products – including cosmetics – contain chemicals like parabens (preservatives) and phthalates (plasticizers) that may not have been adequately tested. Of particular concern are substances containing endocrine disruptors (EDCs), which mimic hormones and can cause problems with reproduction, brain health, development and immunity. Since 2016, scientists have identified 15 probable associations between EDCs and human health. Evidence is particularly strong with regard to relations between perfluoroalkyl substances (used in everyday products ranging from stain-resistant carpets to anti-sticking cookware) and child and adult obesity, impaired glucose tolerance, gestational diabetes, reduced birth weight, reduced semen quality, polycystic ovarian syndrome, endometriosis, and breast cancer.
For very good reasons, we have been exceptionally mindful about what goes into our ēcōMD line of clean, conscious skincare products.
Our commitment to safety and our tried-and-true preservative system is your assurance that every product is clean and toxin-free. Our packaging is similarly health-aware and protective of the environment.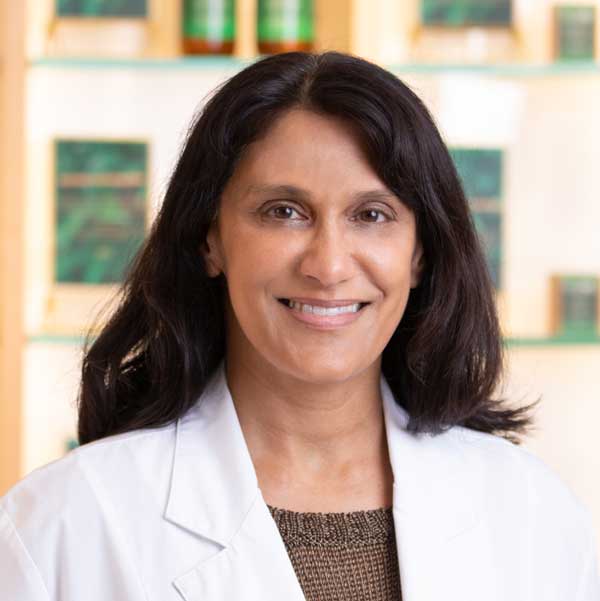 Dr. Namita Rao
MD, CCFP, Cert. Geriatrics
President, Activ MD Inc.
Dr. Namita Rao's dismay about the cumulative deleterious effects of so many popular skincare and cosmeceutical products on humans and the environment has been a driving force behind the ēcōMD product line, which she co-created with her husband Jaggi and skincare expert Vivienne O'Keeffe. Medically licensed in Canada, she is co-owner of both Rao Dermatology and Activ MD Derm Spa, a clinical lecturer in geriatrics at the University of Alberta in Edmonton, and a family physician geriatrician with Northern Alberta Regional Geriatrics. She has earned several notable awards for academic achievement including the Louise McKinney Award, the Harvey S. Perkins Award and the Dean's Honour List.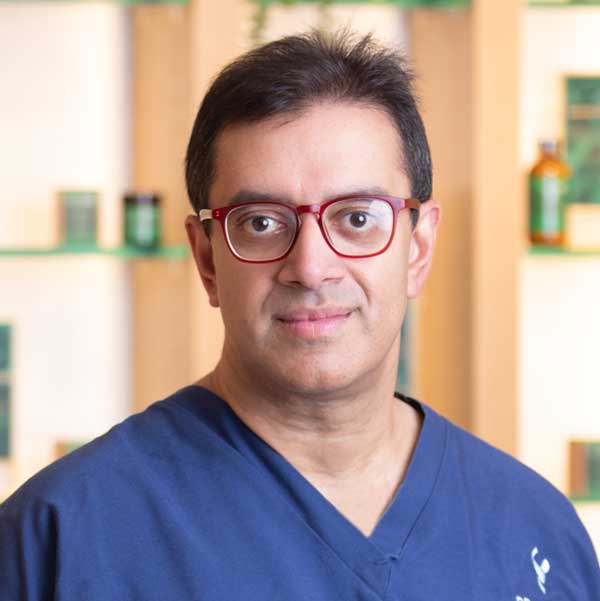 Dr. Jaggi Rao
MD, FRCPC (Dermatology)
Medical Director, Activ MD Inc.
Co-developer of the ēcōMD line of products, Dr. Rao is a double board-certified dermatologist (Canada and USA) and a certified cosmetic surgeon. He trained as a dermatologist at the University of Alberta as well as with the American Academy of Cosmetic Surgery in Southern California, and has won several accolades for research and teaching, including the Canadian Dermatology Association's Teacher of the Year Award. He has authored more than 50 scientific papers and textbook chapters, and has been an invited speaker at over 500 lectures worldwide to physicians, other professionals and the general public. He is also the creator and visionary behind ConsultDERM™, Canada's largest teledermatology service, which allows health care providers access to a dermatologist for their patients with skin-related problems. Along with ēcōMD, he and his wife Namita co-own and operate two skincare facilities in central Edmonton: Rao Dermatology and Activ MD Derm Spa.
Our Values
Read more about the core principles that have guided us in developing our ēcōMD line of products.
Our Ingredients
Some of the plants and natural sources for our carefully-selected ingredients, and what they do.
No-no's
Though all too common in some products, these are the ingredients we'll never use in our skincare line.